25W single color 36W RGB/RGBW DMX512 LED Floodlight P65
25W single color 36W RGB/RGBW DMX512 color changing LED Floodlight Spotlight IP65, 15˚ / 30˚ / 45˚ / 60˚ optional
Description
25W single color 36W RGB/RGBW DMX512 color changing LED Floodlight Spotlight IP65 15˚ / 30˚ / 45˚ / 60˚ optional
Product Features:
The lamp body adopts square design, simple and beautiful. Waterproof IP66.
The bracket is equipped with a dial and has gear locking function.
Surface uses electrostatic spraying, which has strong corrosion resistance and is suitable for harsh outdoor environment.
With excellent optical performance, anti-glare louver is optional.
Single light, 3in1 RGB, or 4in1 RGBW are optional, and can support DMX512 control system.
Specifications:
Power: 25W for single color, 36W for RGB/RGBW
Input voltage: AC100-250V 50HZ / DC24V
Electrical safety class: Class Ⅰ / class Ⅲ
Light source: CREE/OSRAM LEDs
Built-in Driver: constant current driver
Control method: ON-OFF / DMX512
Beam Angle: 15˚ / 30˚ / 45˚ / 60˚ optional
Product Weight: 1.26Kg
Product Size: L187*W160*H158mm

* Installation & Lamp Size: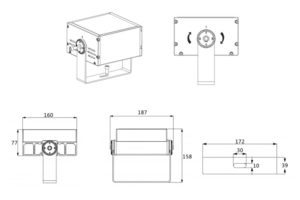 * The single floodlight can be made in bigger and more powerful floodlight: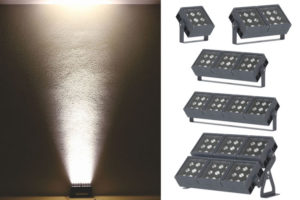 If any question, please feel free to contact us. Thank you.