50W ~ 400W LED Floodlight 5°/8°/15°/20°/30°/45°/60° IP66
50W ~ 400W Modular/Combined CREE LED Floodlight in single light color,  5°/8°/15°/20°/30°/45°/60° optional
Description
New designed Modular/Combined LED Floodlight
With CREE LEDS and Meanwell Driver,
50W/100W/150W/200W/300W optional,  5°/8°/15°/20°/30°/45°/60° optional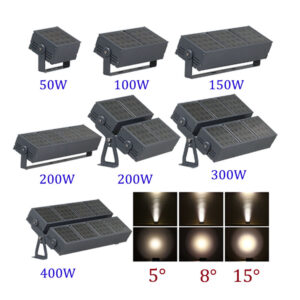 Product Features:
Unique multi-point-press-type integrated waterproof patented structure, 100% no glue structure, protection class IP66

Modular and combination design, flexible combination use according to your different Occasion and requirements.

SUS304 stainless steel screw bracket is equipped with a dial and a gear lock function.

The lamp body adopts a unique design concept, with smooth arcs, simplification of shape, which is simple and natural. The self-flow (self-cleaning) design of the lamp surface ensures that no foreign material deposits on the surface and avoids the maintenance and cleaning of the lamps.

With CREE high-power light source, which have excellent optical performance. The optical parts are temperature-resistant, highly transparent and flame-retardant. With built-in lens technology to minimize glare and stray light. Built-in anti-glare bee net grid is optional.
Specification:
Input Voltage: AC100-250V 50HZ / DC24V
Electrical safety class: Ι / Ш
LED light source: CREE
Driver: Meanwell
Control way: single color Constant currant
Beam Angle: 5°/8°/15°/20°/30°/45°/60°
Note: if you have other requirements, please feel free to contact us. Thank you!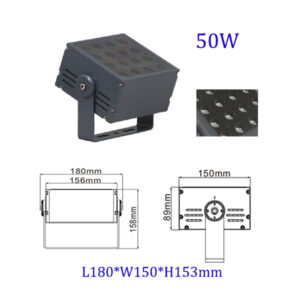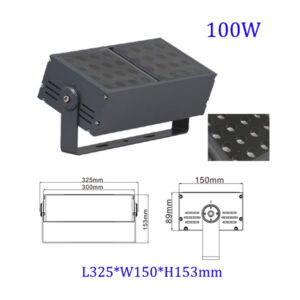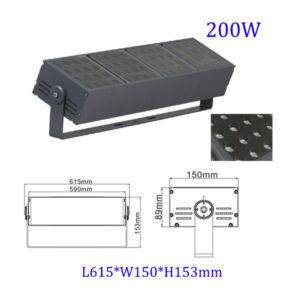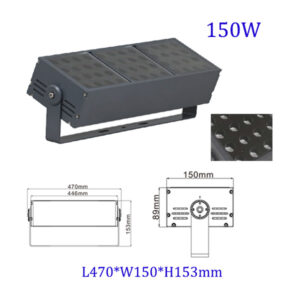 ---
---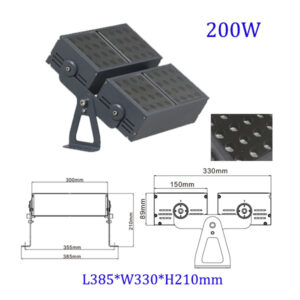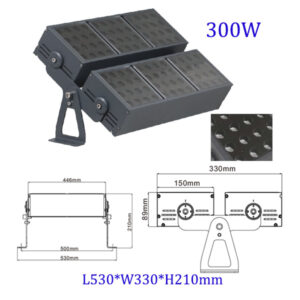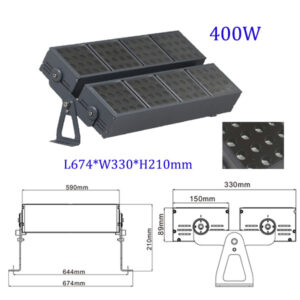 ---
Artikel Number     System Power         Light Source             Weight                  Lamp Size
GYS-11AFL1603                 50W                       16*CREE XPG2               1.8KG                L180*W150*H153mm
GYS-12AFL3203               100W                       32*CREE XPG2               3.3KG               L325*W150*H153mm
GYS-13AFL4803               150W                        48*CREE XPG2               4.9KG               L470*W150*H153mm
GYS-14AFL6403               200W (1*4 )             64*CREE XPG2                5.5KG               L615*W150*H153mm
GYS-22AFL6403              200W  (2*2)         64*CREE XPG2                6.5KG                L385*W330*H210mm
GYS-23AFL9603              300W  (2*3)         96*CREE XPG2                10KG                L530*W330*H210mm
GYS-24AFL12803            400W  (2*4)         128*CREE XPG2              13.6KG              L674*W330*H210mm
---
Installation:
Loose thehexagon screws, adjust the bracket90 degrees forward and backward. After adjustment, fix the screw.

Fix the mounting holes on the bracket to the mounting place with screws.

---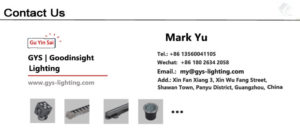 ---