3W – 36W AC100-240V LED Inground Light IP65
3W/6W/9W/12W/18W/24W/36W AC100-240V high power LED recessed inground Light Uplighter, for outdoor landscape tree park decoration lighting. 2 years warranty.
If any question, please feel free to contact us. Thank you!
Description
3W/6W/9W/12W/18W/24W/36W AC100-240V LED Inground Light IP65
Features:
High brightness. Using imported light source, less heat, high brightness, 2 years warranty.
Precise irradiation. The tapered optical lens is used, which has excellent light reflectivity, up to 90% Refraction of light.
Thermally conductive vinyl. Using thermal conductive black glue, the heat dissipation effect is better, ensuring the stability of the light source, prolonging the life of the chip, while not affecting the appearance.
Lightning and rain protection. Adopt Taiwan Meanwell power supply, silica gel infusion, simple and convenient installation, three-core pure copper ground wire, safe against lightning strike.
Grade 1 tempered glass. Adopt first-grade toughened glass, high hardness and pressure resistance.
Specification: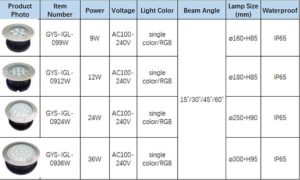 If any question, please feel free to contact us. Thank you!
Nowadays, the lighting has surpassed the general lighting function and enter the field of lighting environment art. A simple inground light can achieve very good decoration lighting effect through its spot lighting.
LED inground light is a special landscape lamp to install underground. It can be seen everywhere in the current urban lighting project, and it is mostly used as a guide light on both sides of the road in the park or as an indicator light in the parking lot.
LED inground lights are different from the LED wall washer, LED flood light, LED point light source and other LED lights. LED inground light needs to pay more attention to the preparation work during installation.
The lamp body of the LED inground light is made of high-purity aluminum alloy material, the surface is treated with electrostatic spraying, constant temperature curing, and strong adhesion. Generally, it has good waterproof and dustproof.