3W LED Inground Light
Good quality 3W LED Inground Light with heat sink part to reach a longer lifespan, can be used in the Park, Square, Shopping mall, street, Garden and so on.
Description
3W DC12V LED Inground IP67, with heat sink part
Features:
Strong Aluminum fitting + Plastic sleeve + Temper glass: Easy and convenient toinstall.
High bright 1W LED, available in RGB, Warm white, natural White,coold white Blue,Green,RED,Amber
Easy control: RGB version is working in 5V DC, which need to work with 5V LED RGB controller and LED power supply together, support DMX console
Waterproof for directly outdoor application
Specification:
Power: 3W
Working Voltage: DC12V, DC5V for RGB ( AC110V-250V optional available )
Light Color: Warm white 2700-3200K,Nature white 4000-4500K,Cool white 6500-7000K, blue, green, red,amber optional
Beam Angle: 15/30/45/60° optional
Lamp Size: Diameter 100*H90mm
Material: Die-cast Aluminum fitting + Stainless steel cover + Tempered glass
Glass is available in transparent glass and frosted glass
IP Rating: IP67
About installation:
1. For low voltage version (12V DC),please check carefully that the input voltage is the right 12V DC before you connect it, as the wrong input voltage will damage the light.
2. For 3WAC110-250V LED Inground light, please shut off the electric power before you connect the light to 220VAC or 110VAC. Please check carefully the connection is right and no short circuit before you turn on the power.
3. RGB  ( 1*3W RGB 3in1/ 3*1W RGB)  Version is working in 5V DC, constant voltage. It needs to work with 5V LED RGB controller and 5V LED power supply. The cable of this RGB light is with 4-PIN Open wire: 5V V+, R,G,B ( commonly Black wire — 5V +, Brown wire — Red color, Blue wire — Blue color, Green wire — Green color).
Warm white, 60°: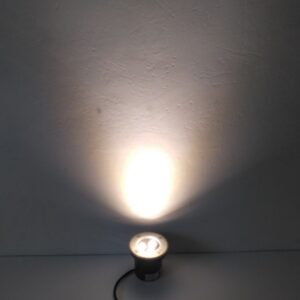 Application Case: