6W 10W 25W 35W 12V 8mm Slim Flat Surface Mounted LED Swimming Pool Light IP68
6W 10W 25W 35W AC12V or DC12V ultra slim 8mm surface mounted LED swimming pool underwater flood light IP68, single color or color changing with/out remote control, easy to install and durable to use.
Description
6W 10W 25W 35W 12V 8mm Slim Surface Mounted LED Swimming Pool Light IP68
Features:
Surface wall mounted installation, 8mm thickness, easy to use.
Filled with epoxy resin, waterproof IP68
Separate lamp fixture design, stainless steel face ring, durable to use
Made of bright SMD LEDs, single light color or color changing by Switch ON/OFF or remote control optional
Low power consumption and long lifespan
Low input voltage, safe to use, DC12V or AC12V optional.
Specification:
Product name: IP68 LED pool light
Power: 6W / 10W / 25W / 35W optional
Input Voltage: DC12V/DC12V optional
LED Type: SMD2835 LEDs
Light Color: single color, RGB/RGBW (control way: Switch on/off or through remote control)
Beam Angle: 120˚
Materials: PC and stainless-steel face ring, filled with epoxy resin
Waterproof: IP68
Product Size:
6W 110(DIA)*7.5(H)mm, 10W 160(DIA)*7.5(H)mm, 25W 230(DIA)*7.5(H)mm, 35W 280(DIA)*7.5(H)mm
Lifespan: > 50000 hours
Tip:
Before using this luminaire, the protective film attached to the surface must be removed.
If the IP8 LED pool light is purchased in DC12V, the following kind of transformer and control is suggested to use together:

*** operating instruction of AC 12V RGB LED pool light *** 
Tip: All lights must be connected to AC 12V. All lights must be installed on the same AC transformer in order to achieve the synchronous function of color changing for all pool lights.
*Controlled by Switch ON/OFF:
In the case of not using the remote control, the light mode can be switched by power off/on. The specific operation is as follows: after power on, run the light mode of the memory. Turn off the power supply, within 1 to 2 seconds and then turn on the power again, the LED pool light will enter the next light mode. After the reset, it changes from mode 1 to mode 15 in turn.
Memory and reset function.
1、After power off, power on within 2 seconds to change the light mode.
2、After 20 seconds power off, power on again to run the light mode when power off.
3、After 20 seconds power off, switch on and off three times, and reset to mode 1 when it is power on at the third time, i.e. RGB on.
Instruction of changing the lighting mode by switch ON/OFF (without remote control):
Mode 1 WHT: white light
Mode 2 B: blue light
Mode 3 G: green light
Mode 4 R: red light
Mode 5 YE: red and green light
Mode 6 CY: green and blue light
Mode 7 PU: red and blue light
Mode 8 RGB JUMP: RGB jump
Mode 9 BGR JUMP: BGR jump
Mode 10 7color JUMP: R→RG→G→GB→B→RB→RGB seven color jump
Mode 11 7color Gradual: R→G→B→RB→RG→GB→RGB in 7color gradual sequence
Mode 12 RGB Gradual:R→G→B gradual
Mode 13 6color Gradual:Six-color Gradual RB→B→GB→G→RG→R
Mode 14 7color Flashing: R→G→B→RG→GB→RB→RGB Seven-color strobe
Mode 15 AUTO mode: Mode 1 to Mode 14 cyclic change
**Controlled by 18-key wireless remote control.
The controller can switch the lighting mode through the corresponding keys of the remote control. ON/OFF is for on/off; SPEED+ is to increase speed; SPEED- is to decrease speed.
Range of the remote control in open areas: ≥20m
Range of the remote control in obstructed areas (for example, something like wall): ≥10m
*** Installation of IP68 LED Pool Light ***
Tip: Do not use electronic transformers that could damage the luminaire. You should use an industrial inverter such as a toroidal or square transformer. The transformer needs to be ordered separately.
All luminaires should be installed on the pool wall 700mm below the water surface and be completely covered by water.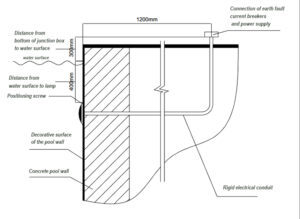 2. The mounting screws used in this product are M4*40mm stainless steel. Place the luminaire at the desired position on the pool wall, then mark the points, drill the holes, insert the non-slip rubber plugs, place the luminaire at the position of the open holes in the pool wall, fix the luminaire with the stainless-steel face ring and the provided stainless steel screws.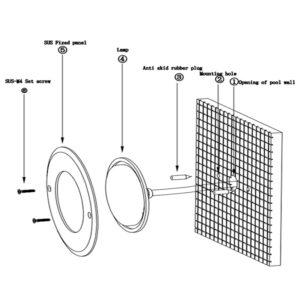 Product Size: