Mini LED Flexible Neon Light with Flat Surface 160˚ Emitting
DC12V DC24V AC110V AC240V Mini LED flexible neon light with flat surface, 160˚ emitting, single color or RGB color changing
Description
Mini LED Flexible Neon Light with Flat Surface Beam Angle 160˚
—- Product Size 7*12.8 mm / 8*15.8 mm / 11.5*22mm
Product features of the mini LED neon light with flat surface:
Uses high quality SMD LED chips.
Made of UV resistant and flame retardant environmentally friendly PVC
Ultra-thin size with flat surface is suitable for linear lighting projects
Soft and even lighting, no dark areas
Smallest bending diameter up to 9mm
Easy to use, can for DIY, flexible for installation and wiring
The connection length of AC220V-240V high voltage product can up to 100 meters or more.
The automated production process achieves high reliability. 2 years warranty, and working life can be 3-5 years or more.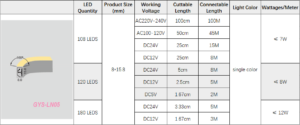 *note: GYS-NL-05 120L&180L is without copper conductor.
———————————————————————————————————————————-
*** LED Flexible Neon Light ***
Applications of LED Flexible Neon Lights:

 1). LED Flexible Neon Light is with the newest technology and is the perfect replacement of the traditional glass neon and cold cathode tubes.
2). There are single-sided or double-sided neon lights for option according to the application. Mini neon series are mostly used for DIY various patterns and shapes, festive theme lighting, lighting tunnels, advertising and fonts, and can also be used in bars, restaurants, KTV, stage backdrops, cinemas, commercial premises and other places where colorful lights are needed to feature the atmosphere.
3). Large LED flexible neon lights are mainly used in villas, hotels, bridges, ancient buildings, sculptures and other places that outline architectures, advertising and fonts.
4). LED flexible neon can be widely used to highlight craft items for brand promotion, indoor dark channel lighting and inner translucent decoration, interior and exterior decoration of cars as well as warning lighting, park road indication and garden trees, and other places that need warm and soft lighting.
Product Features of LED flexible Neon Lights:

1). The LED neon light uses unique structure and new technology. It is made of a special flexible FPC board for neon lights, using improved circuit structure.
2). This series of products work basically as cold light source, low heat, safe and durable, long life and low maintenance cost.
3). Fully automatic process, saving resources, power consumption is only one tenth of glass neon tube, low carbon and environmental protection.
4). Working voltage can be DC12V DC24V DC5V or others.
5). Suitable for outdoor use, protection level up to IP65 or above, working environment temperature from -25 ℃ ~ 45 ℃
6). When DIY patterns and fonts, the color of the light housing can be customized according to the color required on site.
7). Light color optional: single light color, "W+WW" dual-color-temperature adjustable, RGB synchronous color changing, RGB full-color with pixel streaming changing.
8). Different control methods are optional.
Accessories of LED Flexible Neon Lights: